I grew up watching my Dad fix anything/everything. We rarely threw anything away it was always just fixed. That's why I love Craig's List because people are always throwing something away on there that still has a lot of life in it. For your consideration, my latest find. Below is a 5″ bench vise I recently purchased. I don't know if you have priced a solid, 50 lb chunk of steel lately but it's not cheap. AÂ  vise like this is going to start at about $100.00 and go up from there.
Enter Craig's List. I like to comb the "Tools", "Photo + Video" and "Music Instr". You'd be simply amazed at what you'll find in there and for how much. As mentioned above, my recent find is this bench vise that set me back all of $20.00. I could not get there, and give the guy a twenty dollar bill, fast enough. I've been a bit under the weather so it had to sit on the garage floor for a week but a grand score none the less.
The only issues with it were fairly light surface rust and it had been out in the weather so it was mostly seized up well, and starting to fall apart ha, ha. I stopped by O'Reilly Auto Parts and picked up a can of  penetrating oil  and  heavy grease.  Less than ten bucks for both. Click the smaller pictures for larger, close-up photos. Not a bad finished product for less than $30.00 US.
 
The first thing I did was tear it completely down to parts and here are some shots of that.
Here is the disassembled vise. Notice the rust on the anvil, swivel lock bolt and Slides:
 
 
 
 
 
 
 
 
 
Here is a close up of the anvil with rust on it:
 
 
 
 
 
 
 
 
 
Here's the base before it was brushed: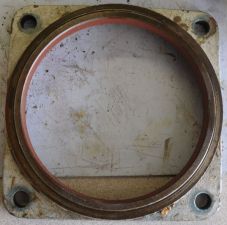 Here's the Static Jaw before it was brushed:

 
 
 
 
 
 
 
 
 
Here are the vise jaws, screws and miscellaneous parts after I sprayed them with the penetrating oil:

 
 
 
 
 
 
 
 
 
 
Here are the same parts after I wire brushed them. Not completely done with all of them in this picture. I didn't take a completed picture before I assembled it. I wire brushed every part though there was no rust left:

 
 
 
 
 
 
 
 
 
Here is the Dynamic Jaw after it was brushed:

 
 
 
 
 
 
 
 
 
 
Here is the Slide Insert after it was brushed:

 
 
 
 
 
 
 
 
 
With all the parts cleaned I greased it up good with the heavy grease from O'Reilly Auto Parts and started the re-assemble. By the time I was done there was no rust left on it and it was cleaned down to bare metal in places and the paint was buffed a bit in others. There is a photo at the bottom for some perspective on how large this vise is.
Here is the vise reassembled and bolted down:
 
 
 
 
 
 
 
 
 
 
 
 
 
 
 
 
 
 
 
 
 
 
 
 
 
 
 
 
 
 
 
 
 
 
 
 
 
 
 
 
 
 
 
 
 
 
 
Took a photo with a 15″ ruler and a Bic pen for some perspective on how large this thing is click the photo for a close up: